LED Plant Life Full Spectrum Light Fixture HB37
Full Spectrum
For Seeding, Growth, Flowering

Efficiency: 150-165 lm/w., 100, 150, 200, 300, watts available
Lens: Optical grade PC, anti-UV oxidation.
Beam Angle: 25, 40, 60, 100
Manual Dimming (standard): 50%, 70%, 100%
Red and blue light can be separately controlled by rocker switches.
Housing: high performance iron plate stamping housing, high strength and antioxidant.
Input voltage: 100-277 VAC, 50/60 HZ, 347-480VAC (optional)
LED module can be dismantled separately for maintenance.
LED driver: constant current, efficiency is up to 92%,
IP class: IP65 (module)
Red and Blue light can be separately controlled by manual dial and rocker switches or 0-10vac dimmable switch.
ZigBee controls are available with digital and WiFi controls the fixture(s) for precise timing and automation (optional).
Used for plants, vegetables, flowers, herbs, any kind of plant life.
---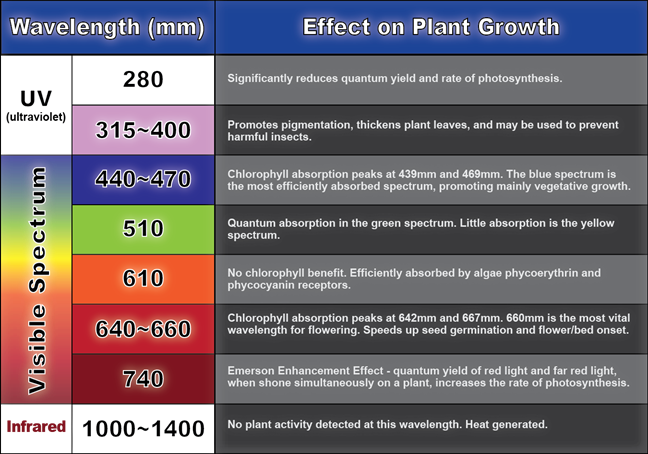 The most important blue wavelengths are from 430 to 450 nm. This part of the spectrum is also known as cool light. These wavelengths encourage vegetative growth through strong root growth and intense photosynthesis. Blue light is often used alone during the early phases of plant growth, such as starting seedlings, when flowering is not desired. The most important wavelengths in the red spectrum are from 640 to 680 nm. These wavelengths encourage stem growth, flowering and fruit production, and chlorophyll production. The red wavelengths are known as warm light and they are naturally more prevalent in sunlight during the shorter days of fall and winter. Wavelengths in the red and blue spectrum are absorbed in greater amounts while more green and yellow light is reflected, giving the leaves their characteristic green color. For this reason, growers relying on artificial plant lighting concentrate on the blue and red parts of the spectrum. Our LED Plant Life Full Spectrum Light Fixture combines both blue & red to achieve a full lighting spectrum.
Related Products